Growing up as a misfit, "fitting in" is never in my dictionary. Being the introvert that I am, the strangeness of a new place scares me so much but calms me down at the same time. I had zero expectation when I first arrived in Melbourne, which I believe, is a good mindset to start with. Being in a new country where nobody knows me is so soothing in a way that I can't really put into words. There's this sense of foreignness that makes it feel familiar. Oh, finally.
At a glance, the city offers everything I've ever wanted: proper public transportations, decent sidewalks (that people can actually walk on without being blocked by street food vendors or having the chance to get hit by the scooter drivers) and no heavy traffic - something that I've never experienced in the city where I grew up. With its multi-cultural background, Melbourne is simply lively and vibrant, every corner has something to explore about, but apart from that, it is also very laid-back that somehow makes it a perfect mix.
Back home, it always seemed like I was in a rush towards I didn't know what. One goal after another. One social gathering after another. It's draining me. I've been longing to just stop whatever I'm doing and begin to enjoy life at its core and I clearly know that it's not going to happen if I stay. Plus, I've been dreaming of spending some time elsewhere other than Jakarta or any other tropical cities.
After going on an easy life pace for a few months now, I'm starting to think that Melbourne appears to have what I desire: a simpler, slower life. Something as simple as a walk in the park every morning. A cleaner and fresher air to breathe in. In here, I started to learn how to fall in love with the present, with every situation that I'm in, and most importantly, with myself.
It's not that I'm taking a break, but bidding farewell to Jakarta while still keeping my day job on a freelance basis seems like the perfect scenario at the moment. Instead, I'm here right now on a cold winter morning, pondering over the things that I want to write for this special blog post: the new city, the weather, the food, the surroundings, the people, and the nights.
The Weather
Let's start with the weather. Coming from the tropics, the crisp cold air during wintertime can be cruel at times, but it's definitely a good change. They say you can experience four seasons in a day in Melbourne. Call me insane, but isn't that amazing? Once again, I came from a country with only two climates: wet summer and dry summer. I don't even know if I should call them seasons. It's just a hot and humid summer all year long, sometimes with a bit overly dramatic rainfalls. But anyway, wearing layers is probably one of my favorite things when it comes to dressing up, something that I could never do in Jakarta, so honestly speaking, I don't mind the unpredictable weather at all.
With the temperature uncertainty, I know I should've been more of a planner, but in fact, most of my days here always go unplanned. I really like the idea of having the freedom of what I'm about to see and experience on a day. For instance, this morning, I chose to just snuggle in a blanket while sipping a cup of hot chocolate and reading a few interesting articles from one of my favorite magazines. As amazing as it sounds to just stay home and enjoy being a couch potato, there's always an urge to go out and do something (a little bit) productive, like breakfast maybe?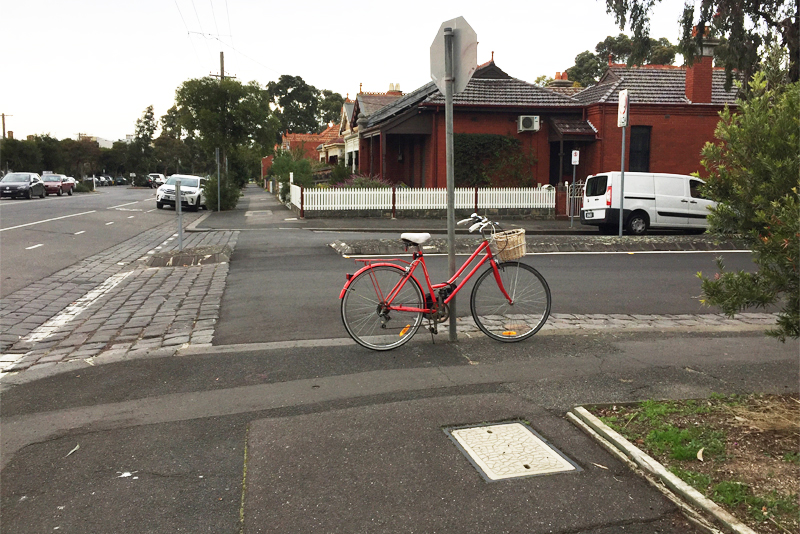 The Food
When it comes to breakfast or brunch, there's probably only one place in Melbourne that I always go to. Lucky me, it's just around the corner from where I live in Brunswick. Scrumptious eggs benedict with smoked salmon and the best hollandaise sauce you could ever imagine, oh yum! Just in case you're wondering, it's from this family-owned cafe called Sweet Evelyn - they have a selection of great pastries and mains and of course, amazing coffee.
Widely known for its coffee culture, Melbourne has endless options for great cafes all over the CBD and suburbs. Lazy that I am, I'm not the type of person who will go for the best coffee in town according to reviews. As opposed to that, I normally just get a latte whenever and wherever I feel like it. And guess what, I've never had any bad experience with coffee here; every place has different beans with their unique flavors that I'm not keen to compare about. I think for me, it's also more about letting go of controls, being grateful for what I have at the moment and not always chasing things just for the sake of it.
The Surroundings
As much as I like slow mornings, I've always liked to give my eyes a treat to art museums or galleries. To me, it's such a feast to be able to see beautiful artworks from all over the world. It is about observing how these artists perceived the universe we live in and everything around us and interpreted their visions into art pieces. I consider myself lucky because while I'm in here, the National Gallery of Victoria (NGV) is currently holding a special exhibition partnering with New York's Museum of Modern Art (MoMA), with over 200 key works ranging from artists including Vincent Van Gogh and Andy Warhol. Something that's not to be missed, that's for sure.
I know it's not the sunniest day to be out but to be able to spend some time just by myself doing things I enjoy already makes it a good day. When it comes to places to go, I believe it's never the same for everyone - it all depends on the personal interests. Since I find pleasure in doing nothing while sightseeing, the Royal Botanic Gardens was a great option for me. The whole area is a lush greenery adorned with charming flowers and beautiful lakes. It's just so charming. It is also very quiet which makes it perfect to finish a book while listening to some feel-good tunes.
The People
Melburnians are probably some of the nicest people I've ever met on this planet. You go to a random coffee shop and expect to have a friendly chat about your dog with the cute barista you just met 5 seconds ago. It's definitely something that I'm not used to at all. I just don't talk to strangers. Well, maybe now I'm starting to.
The Nights
Spending some time alone is always a great thing to do, but when the sun goes down, that's when I get to hang out with my partner. We always go to the same place over and over again, one of them is Lazerpig, our favorite pizza parlor & bar in Collingwood. While the night's still young, there's a chance that we might continue our Sunday session to Nihonshu Shochu & Sake Bar in CBD. We always like it on Sunday because nobody goes there. Nothing beats a freezing cold night with a warm house sake (you get to choose your own cup!) and endless pints of beers.
There's still a lot more to explore in the city but I'm not in a hurry. These past few months have been a self-reflective journey of who I am as a person, and to be honest, there's nowhere else I want to it be other than here. I might be somewhere else tomorrow, who knows, but one thing I learned in Melbourne is that I can be anywhere in the world as long as I remember how to be grateful and open to new things.
---
Text & Photographs by Elisa Kuswari
Creative Direction by Kania Anggiani