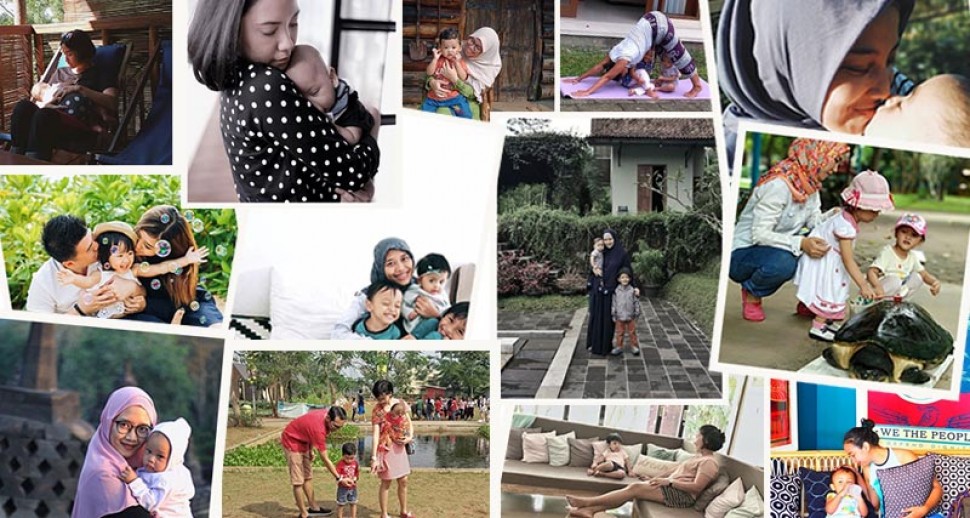 As we celebrate the Independence Day of Indonesia, freedom becomes a topic that can't be excluded from the equation. A concept so general yet so specific, it is quite tricky to ponder upon as it easily applies to so many, even every, aspect of our lives as a human being. Moreover, one's concept of freedom is usually molded by past experiences, values, culture, and upbringing, making it even more interesting to discover.
Last week, we've had a wonderful time hosting a giveaway collaboration with some of our friends, Productive Mamas, Halo Ibu, Googaga, and Woop. And after looking at the inspirational submissions from the amazing mothers, we can't help but talk about what freedom means for a mother and see how they choose to practice it in their life.
"Freedom for me as a mother is the free will to choose how we (my husband and I) raise our kids. It's not that we don't listen to others' advices or critics. If it's constructive, we will do it gladly. But if it isn't something we believe in, we choose to not follow it as the final decision is in our hands." @audiarama
"Freedom for me is to become a modern mother owning my own choices without the fear of being judged or pressured by anything (because sometimes peer pressure is real). That includes the choice of becoming a stay-home mom as soon as Raya is born and not pursue a career, even though many say that my degree would become a waste. But having Raya and Saka made me realize that my life is for my kids. And I'm so thankful that now we have plenty of parenting methods that are pro-children, so then I can cherish every moment with my kids." @natasha.samosir
For some, freedom in motherhood is having the liberty to choose what method of parenting works best for not only the children, but also the parent. As the era evolves, parenting methods have also gone through changes over the years. What was relevant in the old days may not be applicable in today's time and vice versa. And sometimes it can be very tiring to do the parent role and have your choices confined to what other people say.
But when it comes to parenting, we wholeheartedly agree with what @amaliacipta said, "A perfect mom doesn't exist, a happy one does." Motherhood is a fulfilling, draining, giving and a very very beautiful journey. It should be something cherished instead of despised and when the mother is happy the kid will be too. Thus when it comes to giving the best for your kids, becoming a happy and stress-free mom is the best thing a mother can ever give.
"To let my daughter eat chocolate when her heart wants it and give her fruits & veggies when her body needs it. Wear pretty shoes on Saturday and walk barefoot on Sunday. To be soft yet strong, to be kind yet firm. Love my daughter but also love my husband and myself." @skyevalerie.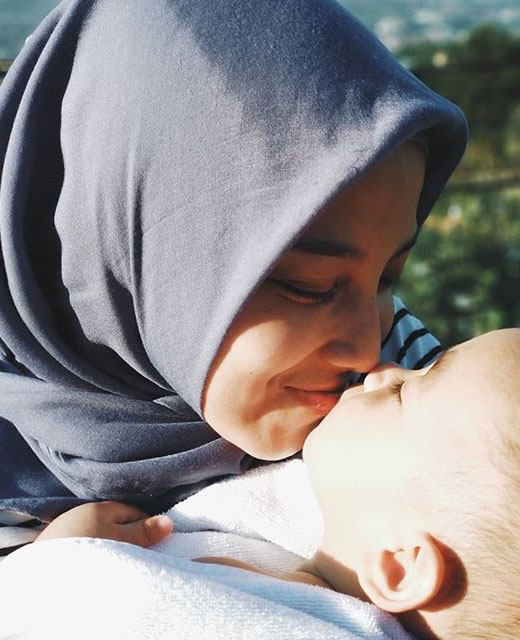 "My freedom was in choosing the right method to cope with postpartum depression. I used nipple shield, Supplemental Nursing System, cup feeder, took vitamins to boost ASI production, acupuncture, visited a doctor specializing in lactation, read books, took vocal lessons, swam, did tai chi, yoga, bought an oxygen tube for the home, drank Rosemary tea, ate veggies & fruits, had massage for relaxation, meditated, went to an energy therapist, wrote in my journal, and took anti-depressants from my psychiatrist to feel better. Comparing myself to other mothers? Of course. But as time goes and with my parents' and husband's support, I regained my strength. I started to accept that I do need help and it's okay to get help. I'm forgiving myself, loving myself, this is my freedom." @adinanh
"A struggle I overcame was beating the ambition to become as best as A, as smart as B, as pretty as C, as perfect as Z, etc. I need to realize that staying sane and happy is the way to always give the best for my kid. I eat first before feeding my child, as I need extra energy and patience to deal with the drama that might come. I eat more to keep my emotions in check, because I realized that I become cranky, emotional and impatient when hungry. The mindset is no longer: my child needs to eat before me, but: I need to be well-fed to feed my kid in a good mood. Sometimes, I let my child scream cry just to let me take some time to breathe, focus and pray. Not for long though, but this small break helped to change my heart. I'm no longer angry seeing the tantrums, no longer frustrated hearing all the screaming." @yoselasm
For others, freedom in motherhood is not only about parenting, but also about coping with the building pressure that comes with becoming a mother. Postpartum depression is a real thing and without proper help, both the mother and child will be miserable. And with the seemingly never-ending responsibilities of a mother, it can be very overwhelming just to think about seeing your kid day by day. That being said, it is definitely okay to take some time to take care of your sanity. Either visiting a professional to help you cope with the depression or doing something as simple as taking an undisturbed nap, it is okay to need these things and to do them. It is okay to love yourself and let go once in a while.
"It's true what they say, motherhood doesn't come with a manual. I find myself clueless sometimes and often doubt If I'm doing the right thing for my kids. But as time goes by and child's growing up, I learned my lesson well: listen to your heart. It's like building a relationship, you get to know each other day by day. And the one who knows what's best is them who are in the relationship. So enjoy the ride, enjoy motherhood. Embrace it with all its ups and downs. We all have our meltdowns, but rest assured we'll come back fine if not great." @itnavonilt
"To be free but minding others, listening to others with more experience. And only then can you feel true freedom, freedom with a grateful heart." @diahanggraini
As a mother of two our Founder and Creative Director, Kania, also shares her thoughts regarding freedom and motherhood. "I'm not sure if many of us realized that to be living and breathing in this time is a privilege that most of us take for granted. Mothers today are extremely privileged to have the kind of freedom we (probably) didn't have to fight for. For that, we are extremely blessed," she said.
To have the liberty to decide is a great blessing we must be thankful for. Because without it, we wouldn't have the independence to take action and make a difference for our selves and our family. Or simply put, all the inspiring stories we have seen above wouldn't have existed. So mothers, take heart and be grateful. Live the freedom we have and make the best of your life today. Happy Independence Day, or should we say Freedom Day to all of us!
---
Text by Karina Leviani
Photo Courtesy of @ariyanisukma, @cacadong, @annjasmineee, @gladgit, @diahanggraini @skyevalerie, @wuls_, @audiarama, @fit2fancy.id, @adinanh, @natasha.samosir, @jaiko_gecko, @amaliacipta
Creative Direction by Kania Anggiani