My late dad was a great man - he was someone I always looked up to, provided me with the best education money could buy and all the necessities a boy could have growing up. At fourth grade, I moved away from my parents to get a better education and for the next 18 years my life was constantly on the move from homes to boarding school dormitories. Making new friends and learning new cultures were definitely part of life. Everything was provided for, except for the 'Father-and-son' bond which often absent and something I craved for the most growing up. So, when I married Kania seven years ago, I made a promise to myself that I will do everything to make sure that I am always present and not miss a moment to see our children grow up.
A few months ago, Kania and I talked about giving our firstborn daughter Lulla a present for finishing kindergarten and being such an awesome big sister to Galan. If there's one thing we learned as parents is to always reward your kids when rewards are due. Lulla has always been infatuated by everything Japanese – she eats sushi religiously and there is a growing interest from her to appreciate Japanese toys. So, it was only natural for her to choose Japan as a destination when I asked her, "where do you want to go for our next holiday?". I don't know what struck me, but I thought the trip would be extra special for Lulla by turning it into our first daddy-daughter trip. Plus, I knew Kania was super busy with Chic & Darling, so there is no better time to escape and explore the world with Lulla!
As months went by, I braved myself to buy the flight tickets, arranged our accommodations, and carefully planned every destination. For those who know me, I am a bit of a Nazi when it comes to traveling. Everything is always planned to the minute, and sadly, there have been moments when I spun out of control when things didn't go my way. So in order to make the trip easier, I decided to do a backpacking trip. I know most of you are thinking, "what the hell is he doing going on backpacking with a 5-year-old kid?" But guess what, I'd rather carry a backpack because I couldn't be bothered bringing a suitcase and a stroller at the same time.
The good thing is that once I committed to going on the trip, most of family and friends were generally supportive. Some thought I was insane, but they mainly cheered me on which only made me want to do the trip even more! But who was I kidding? I knew at the back of my mind that traveling alone with a 5-year-old girl was going to push me out of my comfort zone. So, God help me.
A week before our departure I became so occupied with work that I wasn't really sure if I could take the trip with Lulla. Perhaps postponing the trip to a later date would be a safer bet. I thought about the latter option long and hard, but at the end, I was able to stick to the plan and jump on the trip. I came to the realization that work and fortune will always be there. Work was still there after I returned – in fact, I am writing this article in between my meetings. Stepping out of that routine, pausing, breathing, and spending time with your loved ones should always prevail.
So in the spirit of celebrating Father's Day (3rd Sunday of June every year or 17th June this year), I thought it would be perfect for me to dedicate this first blog post of mine to encourage dads to travel with their kids. Don't worry, I've prepare the tips below to make travelling with your little ones bearable:
1. Pack light and wash on the go
I knew I had to travel light if I was going to make the trip easy. Four sets of clothes for each of us, toiletries and toys to keep Lulla entertained were all packed in my 65-liter backpack. I also brought the trusted Yoyo stroller for Lulla which could fold and store in the in-flight cabin. Don't worry about running out of clean clothes! The trick is that we always try to find accommodation with laundry facilities. Kania and I have made the most of traveling to locations with washing machines that we have turned it into our tradition to get our kids involved in washing their dirty clothes.
2. Make the most of public transport
My next tip is to always choose the right method of transport and time the travels to your advantage. Public transport is always great, and there is no better way to introduce them to your kids - especially when you come from Jakarta like us where public transport is not kids-friendly as we would like it to be.
We left Jakarta at midnight on Garuda Indonesia and landed around 8 am in Haneda. Red-eye flights when going away with kids are always the best option for me because they sleep throughout most of the journey. And given that Japan is only 2 hours ahead of Jakarta, she got up perfectly an hour before the plane touch downed. Blessed.
As soon as we landed, we headed straight to Shibuya Station on the train. We got around every day using Tokyo's expansive and integrated rail networ which was incredibly easy and fun to zoom from one corner to another. I have always been fascinated by Japanese trains – their cleanliness, punctuality of arrivals/departures and the how respectful their commuters are. Traveling on trains in Japan is on another level and one of the best ways to make your kids appreciate public transportation. Allowing Lulla to have a first-hand experience of fully functioning public transportation almost gave a glimpse of a better Indonesia, or at least Jakarta with the MRT around the bend.
3. Compromise with your toddler
There's nothing more insulting for a child to be treated like a child when they are traveling. So, parents, if you're reading this, the next tip from me is to treat your kids like a normal functioning human being. Ask them what they would like to do, what do they want to see, tell them to carry their own bags and give them responsibilities. Believe it or not, 5-year-old kids are able to reason with some degree. I did however laid down some hard truths to Lulla that our days would be full of compromises. I would only take her to parks and see the things she wants to see, only if she eats her meals, sleep on time and allow me to go to the places I want to go as well. I didn't get my way 100% of the time and her mood swings got in the way a few times, but I thought over all we were okay. Trust me. Treat your mini travel companion like a grown person and your trip will be full of wonderful compromises.
For the first compromise, we went to Miraikan (The National Museum of Emerging Science and Innovation), a very underrated museum in Tokyo in my opinion. I can't encourage parents visiting Tokyo enough to spend at least half a day there. Miraikan was probably one of the best science museums we've ever been to. If you want to introduce science and technology to your kids, this museum is a must to visit on your list. Lulla got the chance to fulfill her dream of playing with robotic dogs, and I got to introduce her to the mysterious world of Detective Conan. Bucket list for dad also scratched!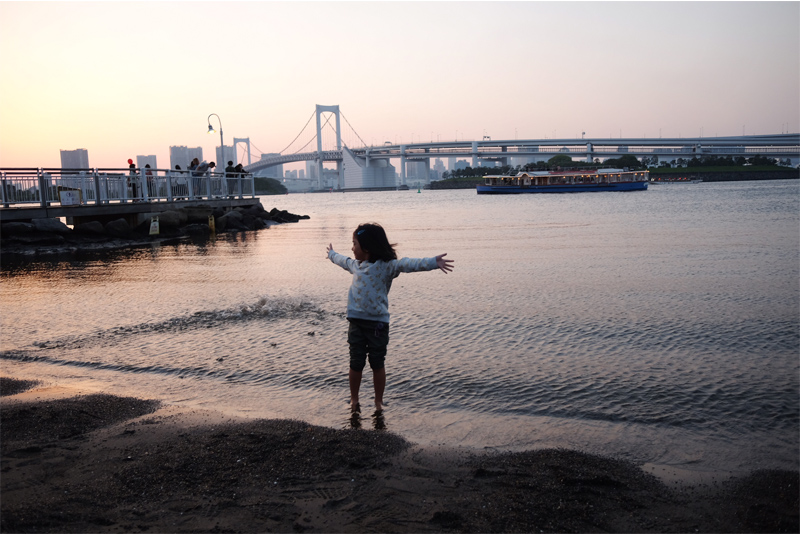 We also visited parks like Yoyogi and Hitachi Seaside where Lulla freely ran around chasing birds and climbing trees, and I got to relax by drinking the occasional beer and enjoying fresh air – compromise number two. Finding parks suitable for kids when traveling is so important, and not to mention so economical on the parents' pockets. It's just such a pity we don't have more of free public spaces for our children growing up in Jakarta.
Anyway, there were many other examples of compromises throughout the trip. They were endless. But I cannot stress enough on the importance of compromising with your kids. It's probably too early to tell, but I am pretty confident that teaching our kids to compromise and excepting the bitter truth that they always get what they want in life are useful life tips for them.
4. Patience - Breathe, Relax, Repeat
I must admit that compromises do not always work with a toddler. There were definitely times when she simply was not in the mood to trade her interests with mine. During those times, there's nothing much you can do except be patient and understand your kid is just a kid. Just breathe, relax and repeat.
The final reward for Lulla (and for myself for being patient) was our visits to Disneyland and DisneySea. What a perfect treat to end our Japan trip with a bang. I first visited Tokyo Disneyland almost 30 years ago, and for me to return to this park with my daughter at the end of our trip was unreal. Just to get the record straight, there is no compromising here. Our two days and two nights stay at the Disneyland Resort were all about Lulla. We chose to stay at the resort and bought two-day passes for both parks which allowed us to relax more. Time flies when you're inside the parks and you see your kids smile ear to ear when they encounter their favorite Disney characters. So dads, please don't hesitate to help your kids hail Donald, Mickey and even Disney's princesses. I have to vouch that Disney parks everywhere are truly the most magical places in the world – except for when you're standing in their extremely long lines only to sit through a 2 minute ride. Priceless.
But like all good things in life, after seven days, we had to close this chapter of travel. Still high from Disney's euphoria, we braved ourselves to return home to the open arms of Kania and Galan. What a trip. I never thought that a daddy-daughter trip could be so fun. I never realized how much I could learn as a parent at such a short time, and more importantly, how much the trip made me practice patience to another level. But on the other hand, I also got in touch with the kid within me that's been long gone. I think as parents or adults in general, we think way too much and have lost our ways to have fun. From the start of planning and throughout our time in Japan, everything was done with some degree of impulsiveness, and fun was never left behind.
Spending the week with her to recharge from work was much needed. Kids grow so quickly and absorb so much at such a short time. No matter how much I keep telling myself that she's still a baby, the trip made me realize that Lulla is fast becoming an independent little girl just like her mother.
Thank you Lulla for hanging out with your old man the past week. Daddy-daughter bonding sesh will definitely be a ritual, and more adventures will come our way!
---
Ruben Indraman Hattari is a contributor writer for Chic & Darling blog. He is a father of two, a food connoisseur and a technologist.
Text edited by Kania Anggiani & Elisa Kuswari
Photographs by Ruben Hattari
Creative Direction by Kania Anggiani