Our team is like a family and that makes our workspace a second home to us. Most of us have been with Chic & Darling from the beginning and have instilled the same homelike and relaxed spirit ever since. Meet Chintya, who started as a Junior Admin back when the office was just at home.
After working her way up to Senior Admin and Distribution today - what she does is inspiring because her day-to-day task is not only accepting orders just like most customer service in general, but she personally assists every single customer in the best way she can to make them feel the most comfortable shopping at Chic & Darling and make sure that all packages arrive at the customers' doors right on time.
You started working for Chic & Darling ever since the office was only at home, how was that?
Yes, when I first joined Chic & Darling, it was at Kania's house garage. I was a bit flustered at that time because the space was really that small, especially when we received more and more orders by the day, the whole room was packed with all the packagings. It was hectic!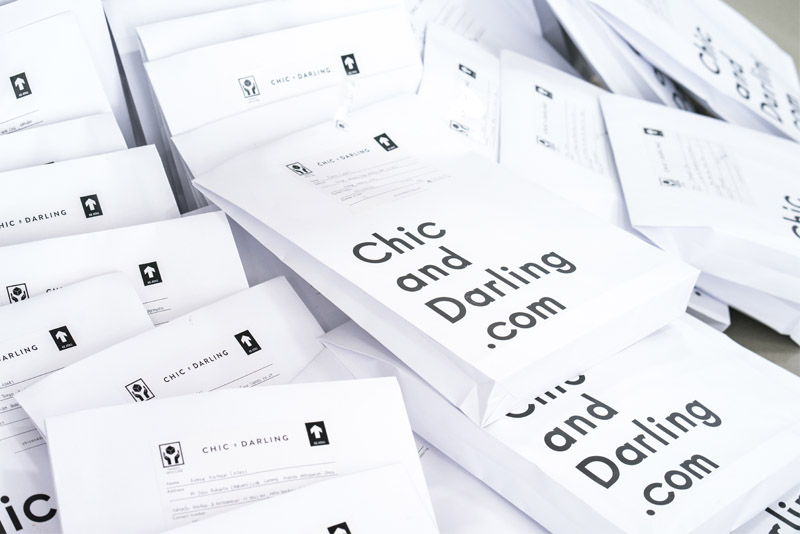 What's your day-to-day activity like?
My team and I are in charge of replying to customers' messages, from orders, inquiries to complaints. After we finish with that, we continue with processing all the orders, from confirming all the payments, packing the items and arranging the pick up with our partnering shipping company.
What's the best thing about your job?
The most fun part for me is the moment I get to personally chat with the customers. Some of the conversations are the ones that actually make my day!
You assist so many customers each day, what's the key to nailing it?
The smile emoji! It's all about the attitude, especially of how I start my day. I always take a deep breath every time I'm about to reply to a customer, crack a joke with them and make it easier for them to shop. For example, although our website is accessible 24/7, I'll help them to make an online purchase. It's no big deal for me.
Another important thing for me is recognition. I always like to acknowledge every customer by greeting them by their names - and I've never really used a template for every conversation because it feels more personal to just type in whatever I want to say to them, just like talking to my friends. To me, it's very important to make every customer feel comfortable.
What's your favorite thing about Chic & Darling?
I really like the idea that at Chic & Darling, we don't feel the need to rush or compete in order to grow as long as we're still learning new things each day. Well, of course, we do have our own deadlines, goals, and dreams, but it's more important for us to take things slow and immerse in every single work that we do.
What makes you proud of Chic & Darling's customer service?
I've got to say it's the personal relationship we have with our customers. We always try our best to make everyone feel personal and special because, at Chic & Darling, customers' needs are always our number one priority.
What have you learned from Chic & Darling?
I have to say that I've learned a lot from Kania. Watching her running the business while taking care of her kids, that's very impressive. Apart from that, I've also gained organizational skills, for instance, how to adapt and socialize with colleagues, which wouldn't be easy at times, but it's definitely a lifelong lesson.
You've been working here for almost two years now, what has stayed the same and what has changed?
To me, the working environment is still the same as the first day of work. I think it's because everyone treats one another as their family, and that's what makes it so comfortable working in here.
As the business grows, there are obviously some changes that have happened. What I really notice is more from the technical perspective, for example, our operational and cash flow are way more practical today. And the fact that we're now working from this office space makes our workflow more effective because we get to communicate and collaborate with everyone about anything.
What's the best experience you had at Chic & Darling?
All of the exhibitions and pop-up shops. It is simply the joy of meeting the customers in person. :)
---
Text by Elisa Kuswari
Photographs by Asita Yulia
Creative Direction by Kania Anggiani